Prezentujemy kilka zdjęć współpracownika naszej redakcji,który od ponad dwudziestu lat zajmuje się fotografowaniem gimnastyki artystycznej. Tym razem zdjęcia wykonane są podczas  "15 Zawodów w Gimnastyce Artystycznej – Berlin 2015", które odbyły się w dniach 30 / 31 maja.
Autor pisze także o wynikach tych zawodów publikujemy je dla miłośników tej dziedziny sportu.
15.Berlin Gymmasters Ryhtmic gymnastics 30./31. Mai 2015
The anniversary tournament with 24 individual gymnasts(as many as never before)
from 19 countries and 7 groups.
The medals in the all around and in the finals hoop/ball/clubs and ribbon,shared only
3 gymnasts with two exceptions: in the final with ball succeded Neta Rivkin from Israel
to fight for the 2nd place and in the clubs final we have two third places from the two
gymnasts from BLR Katsiaryna Halkina and Melitina Staniouta.
Results all around:hoop/ball/clubs and ribbon
1. Margarita Mamun       RUS         75,350
2. Melitina Staniouta      BLR         72,950
3. Aleksandra Soldatova RUS         72,400
4. Neta Rivkin                 ISR          71,350
5. Victoria Veinberg
   – Filanovski                    ISR          71,150
6. Salome Pazhava         GEO         70,900
7.Elizaveta Nazarenkova UZB         70,450
8. Marina Durunda           AZE         70,350
9. Veronika Poliakova      RUS         70,200
10.Jana  Berezko-
     Margrander                 GER         69,650
11.Kasiaryna Halkina       BLR          69,300
12.Serena Lu                   USA          68,350
13.Patricia Bezzoubenko CAN          68,100
14.Kseniya Moustafaeva  FRA          67,950
15.Carolina Rodriguez      ESP          67,900
16.Sara Staykova             BUL          67,550
17.Anna Sebkova              CZE         63,900
18.Aliya Assymova             KAZ          63,300
19. Angelica Kvieczynski    BRA          63,250
20.Karin Smirnov               GER          58,850
21.Karla Diaz                     MEX          58,600
22.Nourhal Khattab           EGY           52,800
23.Camila Giorgi                ARG           51,900
24.Charlotte Fifis               NED           51,850
Results from the groups 2hoops/6clubs
1. Russia                                              17,70
2.Belarus                                              17,50
3. Azerbajdzhan                                   17,30
and 5 ribbons
1. Belarus                                              17,85
2. Israel                                                 17,60
3. Germany                                            17,15
Grand Prix Finale:
three times-Margarita Mamun and one time Melitina Staniouta
hoop: 1. Margarita Mamun              RUS      18,80
          2. Aleksandra Soldatova        RUS     18,50
          3. Melitina Staniouta              BLR      18,35
ball:   1. Margarita Mamun                RUS     19,00
          2. Neta Rivkin                         ISR       18,20
          3. Melitina Staniouta               BLR      18,10
club: 1. Margarita Mamun                  RUS      19,05
         2.Aleksandra Soldatova           RUS       18,65
         3.Melitina Staniouta                 BLR        18,20
         3. Katsiaryna Halkina               BLR         18,20
ribbon: 1. Melitina Staniouta             BLR         18,60
             2. Aleksandra Sodatova       RUS         18,25
             3. Margarita Mamun             RUS         18,15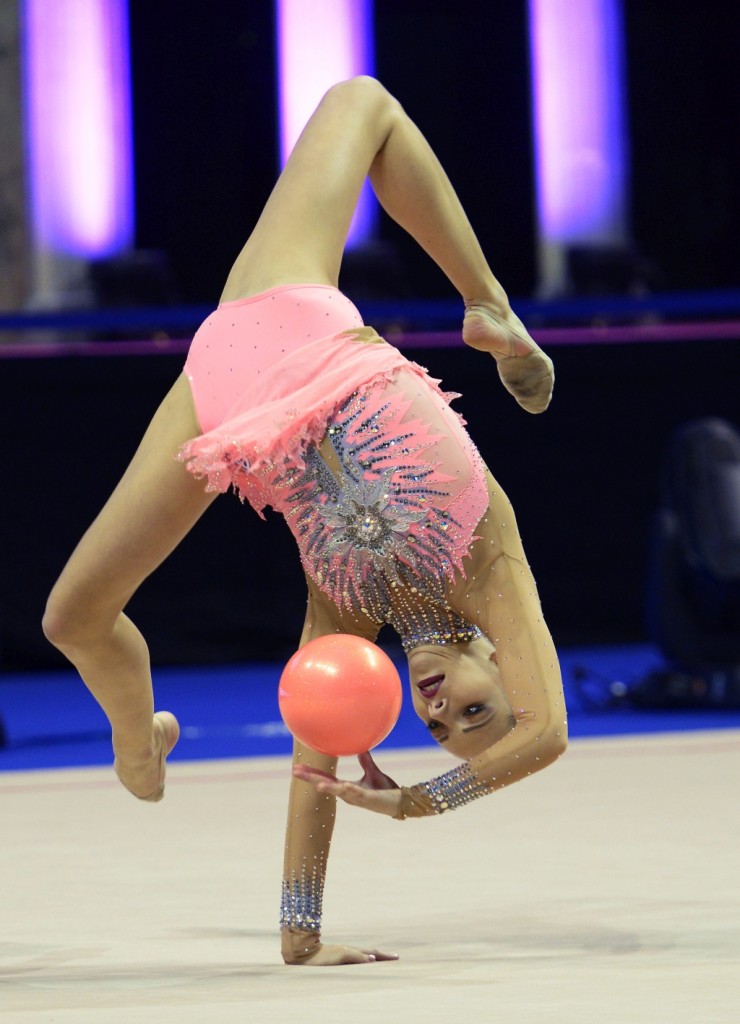 Melitina Staniouta           BLR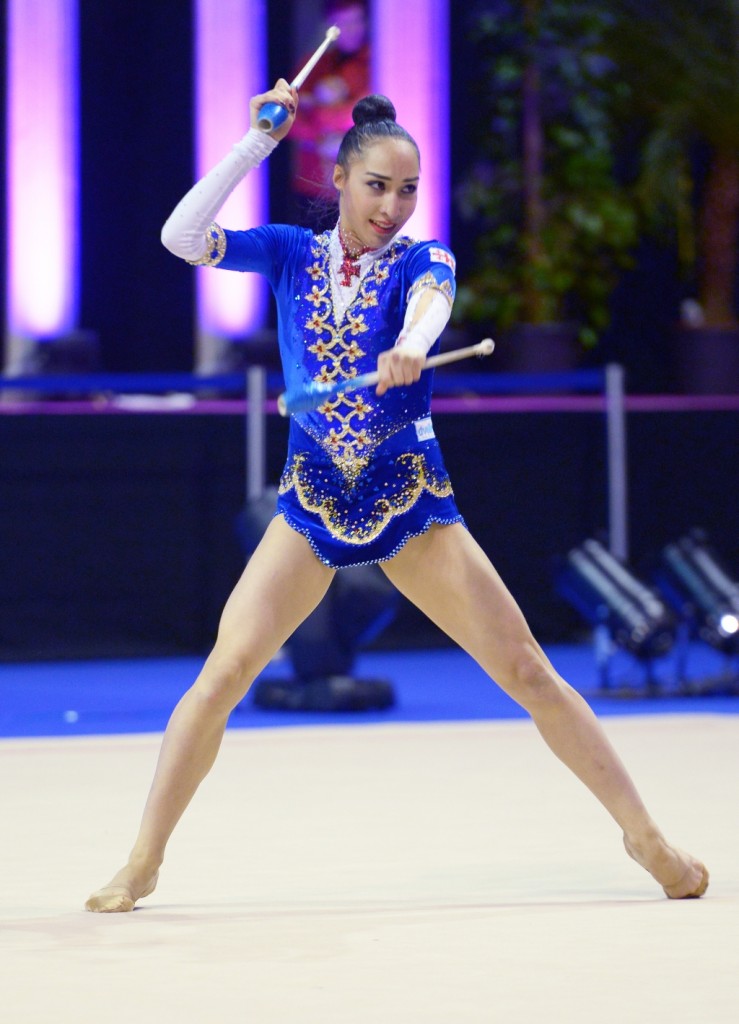 Salome Pazhava               GEO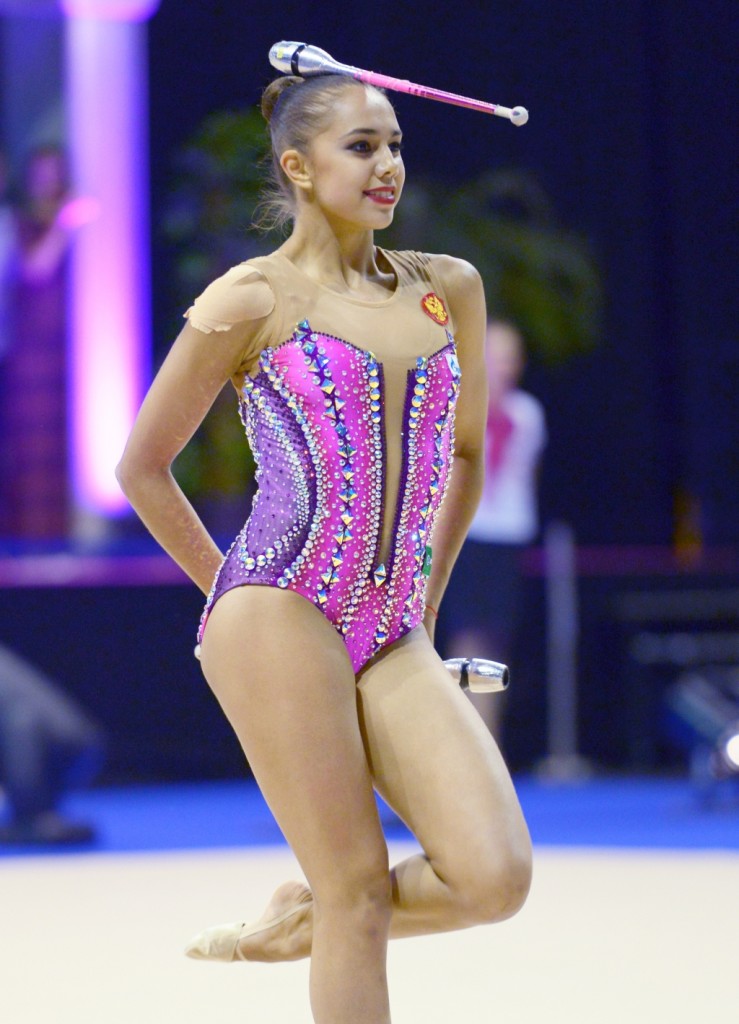 Margarita mamun           RUS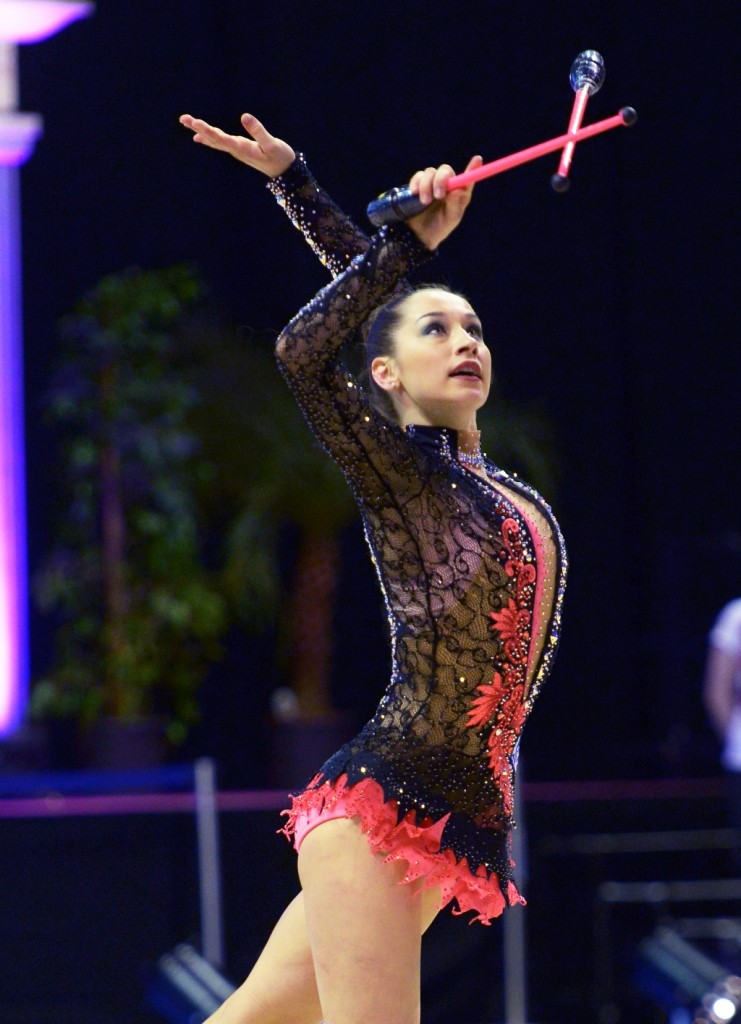 Katsiaryna Halkina          BLR
 Aleksandra Soldatova    RUS